Reflet 2.6 (english)


Reflet 2.6 (french)


Reflet 2.6 (German, translated by Werner)


Reflet 2.6 (Spanish, translated by Cristobal)
February 2006 / 600 Kb

Présentation




Reflet makes it possible to generate simply and quickly an animation simulating waves effects and
lake reflection. It is very practical to animate logos, to decorate your web pages or quite simply to
have fun. It can be used of course for images with water but you can widen the choice for the
monuments, portraits or to create text animations.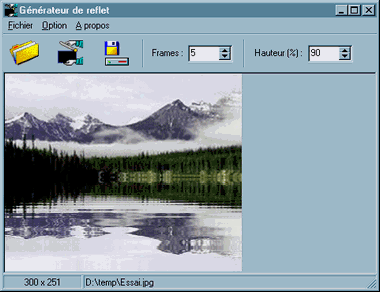 Settings


Various parameters are available to adjust the animation result. Start by defining the number of
frames. More this number is high more animation will be fluid but more the file obtained will be
large. Adjust then the animation speed and the reflection height. The size of the original image is
an important parameter. If the image is too small, the waves will be not visible and animation
without interest. If the image is too large, animation will be not fluid enough.

Export animation


Reflet is able to export animation as animated GIF format, as sequences of images and as AVI
format. After saving image as GIF format, the software proposes to you to create a HTML page to
test the result.